Happening Now

---
PFAC's Jingle Mingle/Holiday Pop-up Exhibition​
​December 1-7th!
Friday is the opening from 12 noon to 5:30 pm - we will have beverages and light fare.​
The Peninsula Fine Arts Center has offered the Guild a Holiday pop-up sale starting, Friday, December 1st through Thursday, December 7th. Although, VGG and PFAC are the sponsors for the event, this is not a VGG fundraiser. This is for you!
A good potential place to sell and be recognized.
Set-up day: Thursday, Nov 30th. 12-4 pm

PFAC's commission will be 40%.
If an artist demonstrates on Friday, Dec 1st, artist will receive 65% of the sales.

Demo your skills in glass on Friday

during open house or

represent your work. There is

an alcove area behind the front desk where we can place a table for demonstration.

The pop up exhibition will be inside the gallery directly across from the front desk assistant. We will have tables available for the artists to place their work.
During the week of the sale, you do not need to be at PFAC. They will be taking care of the sale.
The labels should have the artists' initials, corresponding inventory #, and price $. Please provide the Artist Sale Form for inventory. This list will be used to keep their record of your sales.
Pick up 12-5 on Thursday, December 7th.
If you plan to attend, please email Jenna Figgers. If you want your name listed on flyer, please sign up before Friday Oct 28th. You may still reserve a table until Nov, 28th.
---
30th Annual VGG Juried Exhibition
---
Important Dates:
​
Nov 12, 2:30 pm Poetry inspired by Art Reading

Dec 3, 2017

Guild Meeting at 3:30 pm & artwork pick up at CTAC 4:00 to 5:00 pm
December 9, 2017 Dr. Jutta-Annette Page , Juror's lecture will be held at 5 pm at ODU's Goode Theater. ODU has secured parking on levels 4 and 5 of the garage behind the SpringHill Suites Marriott - next to the Goode Theatre.
---
Juror's Lecture with Dr. Jutta-Annette Page
December 9, 2017 5 pm
​ODU's Goode Theater.
ODU has secured parking on levels 4 and 5 of the garage behind the SpringHill Suites Marriott - next to the Goode Theatre.

Jutta-Annette Page is the Executive Director of the Barry Art Museum, in Norfolk, VA. She holds a Ph.D and MA in the history of art and architecture from Brown University, an MAE in jewelry, metalsmithing, and industrial design from Rhode Island School of Design, and an MA and BA in visual communication and art from Georg-August-Universität Göttingen in Germany. She was the Curator of European Glass at The Corning Museum of Glass from 1993 to 2003, and served as the Curator of Glass and Curator of the Decorative Arts at the Toledo Museum of Art from 2003-2016. A respected author in her field, Dr. Page has completed numerous publications and lectured extensively on a broad range of topics. During the 45th Annual Glass Art Society Conference, she was presented with the Honorary Lifetime Membership Award. She served for ten years on the GAS Board, including as president.
---
​Future Events
---
2018 Empty Bowls Fundraising Event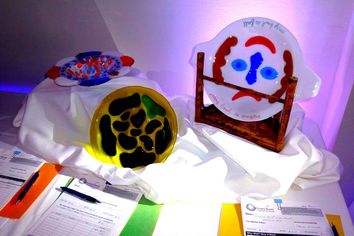 March 23, 2018
5:30 pm & party until 9 pm

Historic Hampton Post Office
132 East Queen Street, Hampton
Street and Garage Parking Available

The Empty Bowls fundraiser benefits the Food Bank of Hampton Roads. All Guild Members are encouraged to create at least one bowl to donate to this great cause. Last year the guild donated almost 50 bowls!


---
---
2018 VGG Members Show at the Slover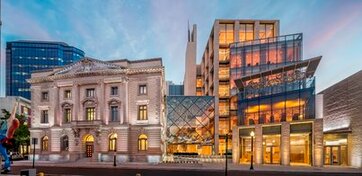 ---
The Slover Library has graciously agreed to host our Annual Members Exhibition again this year. The members show, Unlike our Annual Juried Exhibition, guarantees each member at least one piece on display. Last year's show and special GAS reception were hugely successful and we are looking forward to another great year!
Entry Requirements:
Artist must be a current paid VGG member
work must be at least 30% glass or focused on glass
Hanging work must be mountable on wood, the Slover has special wall requirements