General Meeting and Scholarship Presentations
Sunday April 2, 2017
2-4 pm
The Glass Wheel Studio
128 W. Olney Road
Norfolk, Va
The guild will hold a general meeting featuring Education Scholarhip presentations by Gayle Forman and Robin Short. Stay for the tour of the studio spaces and enjoy Organica by Marti Negri and Layered Up Invitational Exhibition being held in the gallery.

Meeting will also cover:
Give Local 757 Fund Drive, May 9
VGG Membership Exhibition, Slover Library
VGG Tech Display Booth, GAS Conference
Glass Art Society Conference, June 1-3

---
General Meeting and Pedestal Workday

January 17, 2017 -POSTPONED!! Due to weather.
Cristallo Arts Center
11835 Canon Blvd.
Suite C103
Newport News, VA
757-596-3551 or arogan@cristalloartcenter.com
Lend a hand to work on the 30 pedestals needed for public exhibitions. This is the third workday the guild has held, and we are progressing nicely. No experience necessary, we will train you on the job! We will putty, sand and paint. A brief general meeting will be held.
---
EMBRACING NARRATIVES:
Washington Glass School and Virginia Glass Guild Juried Exhibition​
---


Pedestal Workshop

Saturday, November 5, 2016 10am-5pm

Pedestal Workshop
121 Jeffersons Hundred
Williamsburg, VA

An all day workshop with lunch provided to work on the 30 pedestals needed for public exhibitions. This is the second workshop the guild has held, and we have a good start on the project. This will require putty, sanding and painting skills. No previous experience necessary. We'll train you on the job!

The Guild will need to provide pedestals with vitrines for

GAS Conference 2017

public exhibit. Volunteers will be needed for workshops related to this project. These pedestals will allow the Guild to expand their presence into many public venues in the future.
---
​Studio Glass: A Field in Transition
Douglas and Katya Heller's Lecture
Saturday, October 15, 2016 2:00 PM
Chrysler Museum of Art Auditorium
1 Memorial Pl, Norfolk, VA 23510
---
Glass Doors Gallery Exhibition

July 19- September 18, 2016
​ Glass Behind GlassGlass Doors Gallery
Cultural Arts Center
2880 Mountain Road
Glen Allen, VA 23060
A collection of glass art demonstrating the varied techniques and styles of the talented artists and members of the Virginia Glass Guild.
The following members of Virginia Glass Guild are currently exhibiting artwork in the Glass Door Gallery:
Jude Schlotzhauer, Barbara Atkinson, Lisa Mosser, Margot Thigpen, Robin Short, Heather Hartle, Ali Rogan,
Neil Duman Elaine Abrams and Sabrina Cordovana.
A Preview/Purchase Info slide presentation can be viewed at
http://www.artsglenallen.com/galleries/glass-door-gallery
To experience all of the artwork in the exhibit, please visit the Cultural Arts Center at Glen Allen, Glass Door Gallery
Hours:
Monday - Thursday, 9am-9pm
Friday & Saturday 9am-5pm
Sunday, noon-5pm
---
Photography Workshop​
​** NEW DATE:
Saturday, August 6th 10:00-3:00 pm **
​
Cristallo Art Center
11835 Canon Blvd.
Suite C103
Newport News, VA
757-596-3551
​
Guild member Rick Nelson will demonstrate the set up and lighting for photographing glass art in the first hour of this workshop. Time slots are available following the demo for members to have their artwork photographed at a cost of $10 per image and $10 for a CD if required. A pizza lunch is planned for all attending. Contact Ali Rogan to reserve a time slot and discuss special requirements for your artwork.
arogan@cristalloartcenter.com
---
---
Annual Guild Picnic & General Meeting​

​Sunday, June 26, 12:00- 4:00pm
Carrollton, VA
​
Guild members Bill and Linda Pinkham have again graciously offered their beautiful gardens for a picnic and final meeting of the year with officer elections. This will be a potluck picnic with the guild providing the meat entrée. Members were encouraged to bring artwork to photograph in the gardens. This is always a lovely way to spend an afternoon!
---
---
Meeting and Presentation!


Sunday May 15, 2016Location: Williamsburg, VA
Deborah Ayres and Joan Biddle will each give a presentation describing what they learned as a result of receiving an Educational Scholarship Award from the guild. There will be a general meeting and social hour with cake and tea, coffee or wine. Guild member Deborah Ayres has offered her home studio to gather. Details were sent by Mailchimp on May 11th to all of the Guild's members. RSVP was requested in the email, please contact:
president@virginiaglassguild.org
if planning on attending.
---
---
GiveLocal757!

May 3rd and 4th 2016
GiveLocal757 launched! ​VGG had 80 donors and raised closed to $5000.00 in 48 hours! You made it a historic day. The Guild would like to thank every donor for their support! With you help we can continue to serve and educate the Commonwealth of Virginia on glass as an art form.
Did you miss out on the fun! You can still donate to VGG
HERE
!
Community Involvement ~ Scholarships ~ Public Exhibitions ~ Workshops

---
2016 Virginia Historic Garden Week

Tuesday, April 26, 2016Swem Library
The College of William & Mary
400 Landrum Dr
Williamsburg, VA 23185

The guild has been invited to participate in the Williamsburg Historic Garden Week tour to be held on Tuesday April 26, 2016. A beautiful venue in Swem Library on the College of William & Mary campus will be filled with Virginia Glass Guild artist's glass art for sale....

read more

.
---
Pedestal Workshop & Members Meeting

​Saturday, April 9th, 2016 2:00-4:00 pm

Cristallo Art Center
11835 Canon Blvd.
Suite C103
Newport News, VA
​
The guild currently owns 10 pedestals for displaying work at community exhibits and sales. During this workshop guild members will lend their putty and paint skills to creat another 15 pedestals, adding to our collection before the guild sale later in the month. Many hands make a lighter work for all! Please consider volunteering for this effort.
Thank you Clay, Cate, Holly, Heather, Rick, Ali, Rick R. Robin and Mac for leading a helping hand.
---
Photo Credit: Rick Nelson

Guided Tour of the Collection

Thursday March 17, 2016
5:30-6:30 pm Private guided tour at the Chrysler Museum
8:00 -Third Thursday at the Perry Glass Studio

Diane C. Wright, Barry Curator of Glass, Chrysler Museum of Art, give the VGG members a private guided tour of the museum's glass collection. Following the tour, members attended the popular Third Thursday event at the Glass Studio with live music and glass art performance act:
GLASS GUMBO
James Vella from New Orleans blew a huge gumbo pot, and filled it with all sorts of ingredients created by the artists from the glass studio.
---
28th Annual Glass Juried Exhibition
December 12, 2015 to January 24, 2016The Charles H. Taylor Arts Center
4205 Victoria Boulevard
Hampton, Virginia 23669

Juror: Diane C. Wright, Carolyn and Richard Barry Curator of Glass at The Chrysler Museum of Art, Norfolk

Diane C. Wright will select recipients and present $3,750 in cash awards and scholarships to exhibiting members of Virginia Glass Guild. VGG will fund $1250 in exhibit awards and $2000 in educational scholarship awards. The Hampton Arts Commission will sponsor an additional $500 exhibit award.

Gallery Manager, James Warwick Jones notes, "More than any other group of artists I know, these VGG members are constantly taking workshops, studying their craft and learning new techniques, which they incorporate into their latest work as it evolves and expands."

The Opening Reception was held Sunday December 13, 2015, 6:00-8:00 pm.


T

he annual Silent Auction which is the guild's

primary fundraiser for Educational Scholarships was held during the opening reception ,

6:00-7:30pm.

---

​Poetry Inspired by Art

Sunday, January 10, 2:30 pm

What an experience! The Gallery Talk had over 20 poetry writers. Every poet presented their poem(s) with amplified passion. The imagination and the extra-long hours it takes to create a glass art piece express an artist vision, but to have someone give it life in a poem was remarkable!~Robin Short

Photo Credit: Rick Nelson

Best In Show
Ryan Tanner

Hampton Arts Commission Award
Gayle Forman

Second Place
Hannah Kirkpatrick

Third Place
James Akers

Award of Excellence
Kathy Little
Grant & Erin Garmezy

Honorable Mention
Hollister Weber
Kristi Totoritis
Sarah Vaughn
Julia & Robin Rogers
Heather Hartle
Ali Rogan
Emilio Santini
Jenna Hawkins
Clay McGlamory
Lisa S Mosser

Scholarship Awards
Gayle Forman
Robin Short
Fran Ward

---
Through the Looking Glass:
Introspective Studies of Glass and Video by Charlotte Potter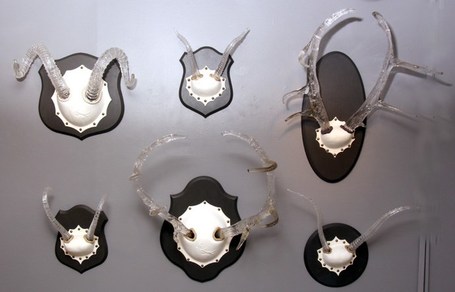 December 12, 2015 to January 24, 2016

Charlotte Potter inspired us with her solo exhibition "Through the Looking Glass".
Charlotte won The Best in Show award for her Threshold during the 27th Annual Juried Exhibition in 2014.


---
---
VGG is on the move:

Keep up to date on events, visit our

Facebook

:​

https://www.facebook.com/Virginia-Glass-Guild-247854201903967/

​Don't miss out, our Fall 2015 Newsletter has 21 pages of information. Learn more about our scholarships, awards, and new exhibits. Meet our new members and follow our current member's accomplishments.
---
2015 Williamsburg Fall Arts
​
September 18, 2015
Liz Moore & Associates
Williamburg, VA
​
Eighteen members of Virginia Glass Guild participated either by creating a unique piece of glass art for the Photos, Glass & Floral Exhibit, selling their artwork, or providing valuable support for both events The two events were held September 18-19 at the Launchpad 757 and Liz Moore & Associates, both in Williamsburg's New Town.
During the Launchpad757 opening reception, over 300 invited guests viewed artwork created by ten guild artists, each piece inspired by a photograph of James City County. Williamsburg Garden Club members created floral arrangements inspired by the by the same photographs.
​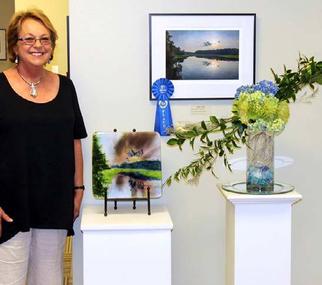 Glass Artists Exhibited
China Chicken by Jude Schlotzhauer
Wild Przewalski's Horses by Carolyn Riley
Daises and Bees on Flame Maple by Tom Vasquez
Misty Morning by Heather Hartle
Winter's Palette by Irene Ultee
Sunset Over the Barn by Neil Duman
Standing Strong by Margot Thigpen
The Road to Beauty by Deborah Ayres
Serenity by Cathy-Jo Ramsey
Water's Edge by Heather Hartle
---
Cathy-Jo Ramsey with her glass art "Serenity"
---