The Charles H. Taylor Arts Center
4205 Victoria Boulevard
Hampton, VA 23669
The Annual Show: December 12, 2015 to January 24, 2016
Juror: Diane C. Wright
Carolyn and Richard Barry Curator of Glass at The Chrysler Museum of Art, Norfolk, VA
Awards from VGG total $1,250! Scholarship Awards from VGG total $2,000
The Hampton Arts Commission will award an additional $500!
28th Annual Juried Exhibition Awards
December 12, 2015 to January 24, 2016The Charles H. Taylor Arts Center
4205 Victoria Boulevard
Hampton, Virginia 23669

Juror: Diane C. Wright, Carolyn and Richard Barry Curator of Glass at The Chrysler Museum of Art, Norfolk

Diane C. Wright will select recipients and present $3,750 in cash awards and scholarships to exhibiting members of Virginia Glass Guild. VGG will fund $1250 in exhibit awards and $2000 in educational scholarship awards. The Hampton Arts Commission will sponsor an additional $500 exhibit award.

Gallery Manager, James Warwick Jones notes, "More than any other group of artists I know, these VGG members are constantly taking workshops, studying their craft and learning new techniques, which they incorporate into their latest work as it evolves and expands."

The Opening Reception was held Sunday December 13, 2015, 6:00-8:00 pm.


T

he annual Silent Auction which is the guild's

primary fundraiser for Educational Scholarships was held during the opening reception ,

6:00-7:30pm.

​Poetry Inspired by Art

Sunday, January 10, 2:30 pm
What an experience! The Gallery Talk had over 20 poetry writers. Every poet presented their poem(s) with amplified passion. The imagination and the extra-long hours it takes to create a glass art piece express an artist vision, but to have someone give it life in a poem was remarkable!~Robin Short

Best In Show
Ryan Tanner

Hampton Arts Commission Award
Gayle Forman

Second Place
Hannah Kirkpatrick

Third Place
James Akers

Award of Excellence
Kathy Little
Grant & Erin Garmezy

Honorable Mention
Hollister Weber
Kristi Totoritis
Sarah Vaughn
Julia & Robin Rogers
Heather Hartle
Ali Rogan
Emilio Santini
Jenna Hawkins
Clay McGlamory
Lisa S Mosser

Scholarship Awards
Gayle Forman
Robin Short
Fran Ward

---
Through the Looking Glass:
Introspective Studies of Glass and Video by Charlotte Potter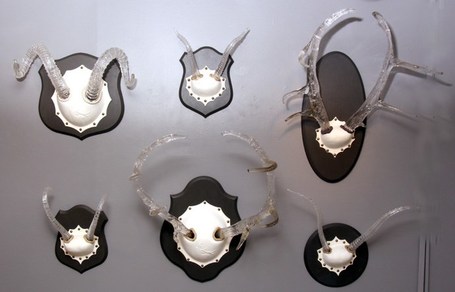 December 12, 2015 to January 24, 2016

Charlotte Potter inspired us with her solo exhibition "Through the Looking Glass".
Charlotte won The Best in Show award for her Threshold during the 27th Annual Juried Exhibition in 2014.


---